ACTION ALERT!

How can you help?
To join the Owain Lake Blockade as an activist, support person, or driver, call Leigh at Earthroots, Tel: 416-599-0152

Financial contributions to support the blockade and lobbying efforts can be made to Earthroots at 401 Richmond Street West, Suite 410, M5V 3A8

Minister of Natural Resources, Chris Hodgson, and tell him we must protect our endangered old-growth ecosystems.
6th Floor Whitney Block, 99 Wellesley Street West, M7A 1W3, Fax: 416-314-2216
To date, 57 Earthroots volunteers have been arrested while blockading Rabbit Lake Road to prevent the logging company from cutting trees.
Logging has begun!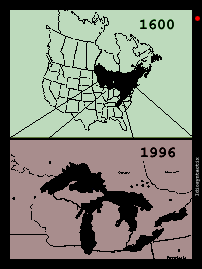 Less than one per cent of Ontario's old-growth forest remains. Temagami has the largest remaining old-growth pine forests in North America. Right now, the Goulard Lumber Company is devastating an irreplaceable part of our natural heritage. Only the presence of a small group of dedicated citizens at Owain Lake is standing in the way of this environmental disaster.



By the Ontario Government's own criteria, this unique ecosystem must be set aside for protection. By law, an environmental assessment should have been undertaken. Instead they have handed our endangered old growth to logging interests.

Earthroots has been mounting actions and blockades on the road to Owain Lake in Temagami since August. Earthroots volunteers have been arrested trying to keep this government accountable and save Temagami from chainsaws by blockading the Rabitt Lake road. It's time for all of us to stand with them!



This action is HAPPENING RIGHT NOW. To help save the Temagami White Pine Old-Growth WE NEED YOUR HELP IMMEDIATELY!

An original work by Bryce Duffy that was part of his beautiful
Outdoor Photographic Installation.



Contact Earthroots or e-mail:
eroots@web.net
[ HELP | history | events | pictures | reports | links ]
.
.
.
.
.
.