[HOME]


Green Health Pages
Read the Latest News
Organic Health Links: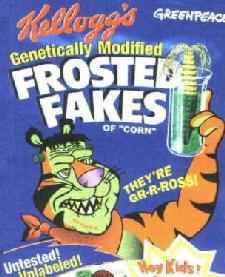 --------
---------
Toronto - Emergency Hotlines
--------
Festive Earth
featuring Green Jobs, Eco Marketplace and much more.
http://festiveearth.com
--------
Animal Rights
PJ the Cat's Animal Rights Page - on this site
--------
More Green & Health Links:

---
DAVID SUZUKI - Nov.2002
- Turn up the heat: Take action to keep Canada in Kyoto
- Air Pollution Fatalities Now Exceed Traffic Fatalities By 3 To 1
--------
Notes from the Road: A Report from the Rolling Campaign Against For Profit Healthcare
from www.ontariohealthcoalition.ca
In the first sixteen towns, over 3,000 people have attended meetings to join the Campaign Against For Profit Healthcare. The unprecedented response is exciting. 150,000 postcards to Ernie Eves and another 150,000 postcards to Jean Chretien are on their way to the politicians and we keep having to print more! Great media coverage, new coalitions, local actions, letters, and ever-growing community outreach are sparking up the struggle across the province.
Thank you for the spirited contribution of community organizations, seniors groups, unions, churches, veterans and concerned citizens. Over 2,000 joined a march and rallies in Brampton to stop the privatization of the William Osler Hospital. Evidence is mounting that local politicians and their supporters are starting to feel the heat. The city mayor has expressed public concern because many residents are contacting her about the issue. The police closed the entire downtown core, keeping city residents far away from any sight of the protest. Health Minister Tony Clement - a Brampton MPP - tried to downplay the privatization message. And the movement to stop the corporate takeover of the hospital just keeps growing.

The Future of Medicare Relies on Stopping the Corporate Takeover of Our Hospitals:
Mass Action to Stop the P3s!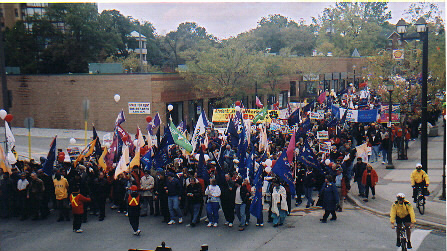 Over 2,000 joined a march and rallies in Brampton to stop the privatization of the William Osler Hospital. Evidence is mounting that local politicians and their supporters are starting to feel the heat. The city mayor has expressed public concern because many residents are contacting her about the issue. The police closed the entire downtown core, keeping city residents far away from any sight of the protest. Health Minister Tony Clement - a Brampton MPP - tried to downplay the privatization message. And the movement to stop the corporate takeover of the hospital just keeps growing.
--------
At EAT THE STATE - Nov.2002
- Health Care For All? by Geov Parrish
An Oregon initiative with a realistic chance of passage this week would create the first program in the nation that would offer a Canadian-style universal health care program to all state citizens.
- Big Industry campaigns lead Oregon to vote down universal health care and genetically modified food measures
--------
Bicycle Friendly Business Awards Polluted by OPG Win – Oct.9.2002
The Toronto Cycling Committee grants yearly awards to businesses that support cycling as sustainable urban transportation. Categories are Best Bike Parking, Bicycle-Friendliest Suburban Business, Bicycle Commuter, Best Small Business, Best Large Business, Best Skills Development, Best Overall.
This year the category of Bicycle-Friendliest Suburban Business got permanently dropped. It seems there isn't a single business in Toronto's vast suburbs worthy of an award. Perhaps a suburban super-sprawl highway award would be more suitable for that area. Instead of a trophy mounted with a cycle, one could be made with a mounted tangle of cars and highways.
Ticketmaster and Grass Roots were a couple of the winners, but they got overshadowed by Ontario Power Generation (OPG). OPG won an award, yet here we think they should have won two awards. A second blackened lung award should have been presented to celebrate OPG's successful plan to pollute Toronto with coal-fired generating plants.
Some people think activism died in Ontario a while ago. Perhaps the sellout to OPG (a publicly owned company that uses donations to cycling to distract from its dirty policies) is a final stake through the heart.
Links:
http://www.city.toronto.on.ca/cycling/bfba.htm
--------
At Nature - Oct.1.2002
- Genes caught skipping from bacteria to beetle
Tokyo team claims first direct evidence of horizontal gene transfer.
--------
Earthroots Special Announcement: Temagami Photos - 18 Sep 2002
Portions of Temagami remote old-growth and wilderness forests are threatened by clearcuts. These cuts, planned by Liskeard Lumber and given approval by the Ontario Ministry of Natural Resources will damage important wildlife habitat, disrupt eco-tourism land trails and canoe routes, and disrupt the integrity of native spiritual sites.

Earthroots and 30 wilderness activists entered the forests of Temagami from September 12-17th to learn more about old-growth forest ecology, build trails and strategize. These dedicated activists traveled into this remote forest via canoe, bike, or plane. CityTV and Bob Hunter recorded the weekend's events.

New photos from the gathering camp can be viewed at the Earthroots website at
http://www.earthroots.org/gathering/gatheringgallery.html

Also be sure to read the NEW Temagami action alert at
http://www.earthroots.org/Temagami/temagamiaction4.html

Couldn't make the gathering but would like to get involved? Contact Louise Molloy, Earthroots forest campaigner at louise@earthroots.org.
--------
Ontario & Alberta the Worst at Forest Protection – May.2002
The federal government earned top marks for protecting Canada's national parks, but all but two provinces received failing grades.
Eleven of the provinces and territories have laws that fail to protect their parks, says the study by David Boydat the University of Victoria.
Alberta and Ontario are the worst. They earned a grade of F minus, the worst grade possible. Logging takes place in 75 per cent of Ontario's Algonquin Park and Alberta's Dinosaur Provincial Park has been continuously violated by oil and gas exploration.
Continuation of such destructive practices will strip down and degrade the ecological systems in the regions. Degradation of ecosystems means the loss of the top predators. Wolves and foxes are responsible for controlling the population of rodents and small animals like raccoons and skunks.
--------
STRATEGIES FOR ACTION ON WOMEN'S HEALTH
The 9th International Women's Health Meeting (IWHM), AUGUST 12 -- 16, 2002 at York University Toronto, Canada
The 9th IWHM will bring women from around the world to examine the many threads that form the fabric of women's health. The Meeting will focus on action and the development of strategies, solutions and approaches to the promotion of women's health.
The 9th IWHM is being organized collaboratively by activists at the local, national and international level and will focus on the following three themes:
· sexual and reproductive rights
· violence against women (state and family)
· environmental health
Our aim is to deepen our analysis and strengthen our base of support for further political action and change. Together, we hope to forge a woman's health agenda for the future based on equity and social justice.
Who can participate?
Women in the women's health movement, activists from all levels, and women the world over who want to share action strategies for advancing women's rights to health.
To register or for further information:
Website: www.iwhm-rifs.org
Phone: (416) 465-6021
Fax: (416) 461-4662
Email: info@iwhm-rifs.org
--------
At the Globe
- Farmed salmon high in PCBs, study says - May.17.2002
--------
At Eye - May.2002
National Save Medicare Day - Tie a ribbon for health care
--------
ONTARIO HEALTH COALITION - Save Public Medicare! Apr.16.2002
Saving Public Medicare is sparking one of the largest community based campaigns ever seen! This historic campaign has hit a cord across Ontario with 38 communities eager to participate and the list growing. Communities still have time to join the campaign so call to be included.
Save Public Medicare! Community Contacts:
Belleville - call Virginia at 613-962-8442
Bowmanville - call Cathy at 905-985-9963
Brampton - call Eugene at 905-792-2894
Brockville - call Bobbi at 613-342-5086 or email jordandb@recorder.ca
Burlington - call Ed at 905-681-0242
Chatham - call Aaron at 519-351-9148 or email mdemeest@sympatico.ca
Cobourg - call Bill at 905-377-8375 or email wnichol@cupe.ca
Cornwall - call Madeline at 613-933-2390or email madeleine.lebrun@sympatico.ca
Fort Erie - call Julius at 905-371-3071 or email jantal@iamaw171.org
Fort Frances - call CUPE 795 at 807-274-3181
Guelph - call Carole at 519-823-2923 or email camill@web.net
Hamilton - call Fran at 905-516-5690
Kenora - call Donna at 807-468-7203 or email cdwiebe@kenora.com
Kingston - call Ross at 613-374-5258 or email Charlie at cstock@sympatico.ca
Kitchener-Waterloo - call Orville at 519-893-3974
Lindsay - call James at 705-324-7841 or email poetman@nexicom.net
London - call Peter at 519-433-4403 or email ohclondon@hotmail.com
Midland/Penetanguishene - call Vern at 416-443-7662
Niagara Falls- call Julius at 905-371-3071 or email jantal@iamaw171.org
North Bay - call Dawson at 705-497-9434 or email prattd@canadorec.on.ca
Orangeville - call Connie at 519-848-6762
Oshawa - call Jim at 905- 434-5922 or email jfreeman5922@rogers.com
Ottawa - call Abe at 613-244-2817 or email Leslie at lmcwhinnie@yahoo.ca
Owen Sound - call Len at 519-389-4490 or email lhope@caw.ca
Peterborough - call Bev at 705-292-9277
Port Colbourne - call Rose at 905-834-1145
Renfrew - call Sue at 613-432-7208 or email skmcsh@renfrew.net
Sarnia - call Arlene at 519-869-6826 or email Arlin2@hotmail.com
Sioux Lookout - call Donna at 807-468-7203 or email cdwiebe@kenora.com
Sault Ste. Marie - call Elsa at 705-949-6235 or email elsam@onlink.net
St. Catharines - call Kim at 905-227-2881 or email estasiak@sympatico.ca
Sudbury - call Brian at 705-674-3455 or email sdlc@on.aibn.com
Thunder Bay - call Evelina at 807-344-5027 or email epan@tbaytel.net
Timmins - call Ben at 705-235-8121 x 7599 or email caw599@kiddmet.falconbridge.com
Toronto - call the office at 416-929-1545 or email pacfutt@globalserve.net
Welland - call Robert at 905-735-4223
Windsor - call Mike at 519-256-8082 or email dlongmoore@cogeco.ca
Woodstock - call Violette at 519-539-6626 or email thib@sympatico.ca April 12,2002
Your Community Not On The List? Call Us
Ontario Health Coalition 15 Gervais Drive, Suite 305 Don Mills Ontatio M3C 1Y8 Phone 416 441-2502 Fax 416 441-4073 Webpage: www.ontariohealthcoalition.ca
--------
Puppy Mills and PJ's Pets Protested - Sat. April 6, 2002
People from around Ontario gathered under the Freedom for Animals banner today to support animal rights and
protest puppy mills and animal neglect.
- Read the full report with photos
---------
Transgenic Animals – new articles – April.2002
With designer rodents coming, how long will it be before monster rats kill us all?
- Gene-tinkered chicken lays 'designer' eggs
- Australia produces cloned, GM dairy calves
- Quick and Easy, Transgenic Rodents Designed to Order
--------
Transgenic Animals
- Sinning genes make "designer" animals easy - Mar 2002
A bit of fly DNA might be about to turn the trickle of genetically modified animals into a flood.
- Jumping genes make "designer" animals easy
--------
Anti-GM campaigners take their protest to prison - March.2002
- SHERIFF HAS MADE OUR DAD A MARTYR, SAY CHILDREN OF JAILED GM PROTESTER
--------
Mar.20.2002 - The Romanow Health Care Commission is requesting the public's input into its work through an on-line survey.
To participate, click Here
Go to the red bar that says "CLICK HERE TO BEGIN THE WORKBOOK"
---------
At the BBC - March.9.2002
- Five arrested at GM crop protest
--------
Health Care - ROMANOW HEARING LOCATIONS ANNOUNCED - Sun, 03 Mar 2002
The following are the locations of the Romanow Hearings in Ontario.
April 2 and 3 –Toronto, Toronto Colony Hotel, Colony Grande East, 89 Chestnut Street, Toronto
April 4 – Ottawa, Congress Centre, Captial Hall 1B/ 2B 55 Colonel By Drive, Ottawa
April 11 – Sudbury, Holiday Inn, Salon C 50 Brady Street, Sudbury
---------
Transgenic food can enhance AIDS, Hepatitis B [shortened]
New Delhi, Mar 3.2002: Even as the final verdict on the safety of genetically modified food is still awaited, an Indian expert has raised fears on their consumption claiming transgenic food could enhance several auto-immune diseases and also pose problems of toxicity.
"If a plant is genetically modified at any time either by conventional breeding techniques or genetic manipulation, it ultimately results in the introduction of new proteins which can bring about drastic changes in its properties," S Prakash, Senior Biochemist, Department of Gastroenterology and Human Nutrition, All India Institute of Medical Sciences (AIIMS), said in a paper presented at a recent National Convention on Transgenic Rapeseed-Mustard.
Such genetically modified plants, with changes in their amino acids, can inhibit the self-formation of antibodies, substances which assist in combating harmful foreign bodies, thereby enhancing auto-immune diseases such as Hepatitis B and AIDS, Prakash said.
"Foreign DNA fragments that are not fully digested in human stomach and intestines can also play an important role in aggravating such diseases," he said. Prakash said certain genetically-engineered products called "neutraceuticals," which have recently hit the market with promises of reducing the risk of cancer and lowering levels of cholesterols, could actually do more harm than good.
These neutraceuticals are manufactured by artificially adding antioxidants -- compounds that scavenge free radicals reducing the risk of cancer -- as opposed to certain plants which naturally contain these substances, he said. Acceptance by the human body of antioxidants in their natural form from plants is 100 per cent while studies have shown a very low percentage of accepance from artificial sources. Moreover, the body uses only that amount of antioxidant which it requires the rest remain unutilised.
The excess antioxidant reacts with other sensitive compounds in the body leading to the production of toxic chemicals, he said adding excess Viamin C (also an antioxidant) has been linked to gastrointestinal cancer.
Prakash said some of the biotechnology companies were misleading people into using genetically modified products manufactured by them.
--------
At the Guardian - Feb.2002
- Scandal of scientists who take money for papers ghostwritten by drug companies
50% of the articles on drugs in the major journals across all areas of medicine" are actually ghostwritten by industry
--------
GE piglets entered food chain in Canada -17 Feb 2002
A GM pig ended up on the menu of a funeral banquet in the states while cloned calves entered the human food chain in Japan. Now material derived from 11 piglets genetically modified to develop a different kind of swine waste has been rendered into animal feed in Canada.
Here's some federal reassurance (not to say obfuscation)
Canada NewsWire
Attention News/Health Editors:
Federal officials today announced joint action to control an inadvertent disposal of genetically modified animal material from a University of Guelph research facility
http://www.newswire.ca/releases/February2002/16/c2628.html
--------
The International Monetary Fund Funding Deforestation - Feb.17.2002
- How IMF Loans and Policies are Responsible for Global Forest Loss
--------
Stem Cell Ethical Controversy Unnecessary – Feb.12.2002
ISIS Report: Hushing Up Adult Stem Cells
The science and technology of adult stem cells are running streets ahead of embryonic stem cells. But are the scientific establishment and the mainstream press hushing that up? Dr. Mae-Wan Ho and Prof. Joe Cummins reviewed recent advances that make embryonic stem cells research unethical and unnecessary. Adult stem cells isolated from different tissues are developmentally as flexible as embryonic stem cells. Adult stem cells have been used successfully to repair damaged heart, and to treat a variety of disorders from auto-immune disease to cancer. Furthermore, they can be multiplied for many generations in the laboratory, and established cell lines obtained.
The controversy over using embryonic stem cells seems redundant if they are not really needed.
---------
At Nature - 11 February 2002
- Double take on cloning - Two new cloning studies have scientists scratching their heads.
---------
At the Guardian - February 4, 2002
- Report calls for stricter checks on genetically Modified foods
--------
PC Leadership Candidates' Terrible Record on Health Care - Feb 2002
Jim Flaherty - just this past spring implemented budget "freezes" that are really cuts that have caused literally thousands of Ontarians to lose their homecare services. Worked with Tony Clement to arrange and announce the building of the first two hospital "Public Private Partnerships" in Canada. The plans are for for-profit hospitals in Ottawa and Brampton -owned, operated, built and designed by profit-seeking companies. Throughout the leadership campaign has said he embraces private - read, for profit - health care.
Ernie Eves - among so many other things, cut almost $1 billion out of hospital budgets in his term as Minister of Finance - closing 9,000 critical, acute and chronic care hospital beds and laying off approx. 25,000 hospital workers including nurses.(We then spent millions trying to rehire them.) Loves tax cuts that give the most back to the wealthy. Recently slipped up and said that he'd like to enable people to "jump the queue" and get faster health care services if they can pay out of pocket for them (2 Tier Medicare). Realizing his mistake, he tried to backtrack.
Elizabeth Witmer - despite her "kinder, gentler" image, presided over the privatization of home and long term care as Minister of Health - handing over nursing home licenses and home care contracts to profit-seeking corporations convicted of massive fraud and sued for abuse and neglect of residents in the U.S. Was Health Minister through successive rounds of cuts to seniors' homecare.
Tony Clement - where to start? Has announced two private hospitals that will provide huge amounts to private developers at the expense of the next generation of taxpayers and will rob the public of control over critical hospital services. Wants to impose user fees and means testing for seniors for drugs and homecare. Loves "for profit" health care where the public pays the bills but public services are handed over to profit-seeking corporations. Favours user fees and delisting. As Health Minister, has presided over the firing of homecare CEOs who dared to complain about the thousands of elderly Ontarians who just got their homecare services cut again.
Chris Stockwell - has stated that he wants to charge OHIP premiums to Ontarians (another name for a regressive "flat tax" for health care, this means tax cuts for the wealthy and tax increases for poor and working people).
---------
Notes on the Ontario Health Coalition Save Medicare Action Plan
By Gary Morton Feb.3.2002
The premiers and the feds would have us believe we are in a health care crisis. But are we really running out of money in Ontario when Mike Harris just gave 2.2 billion dollars in tax cuts to big corporations? Health care spending has actually shrunk in Ontario despite the aging population, and many people believe the health care crisis has been manufactured so cutbacks in care can fund tax cuts. And of course privatization will benefit the large health care corporations that give generously to politicians.
Ontario's Health Coalition has decided to intensify the struggle for full public health care. During a series of public meetings across the province they have decided to go door to door with a personal appeal. The campaign will begin at the end of February with the opening of a number of campaign offices and it will lead to a national Medicare for Life Day in spring. The day will feature pro Medicare lawn signs, ribbons, and window signs and so on.
Tied to this are other committees and actions – women's initiative, student essay contest, testimonials, campus campaigns, community forums and tours.
Contact: Ontario Health Coalition (416) 441 2502 e-mail ohc@sympatico.ca web http://www.web.net/ohc

A number of health care fact flyers you can distribute now reveal that the solutions governments are proposing for Medicare are non answers.
- User Fees: Penny wise and pound foolish. No money is saved and the rich still see their doctors while the poor and low income must cut back.
- Public Private Partnerships: Hospitals owned by the private sector thru these deals are far more costly and deliver lower quality service. They are a problem not a solution.
- Medical Savings Accounts: User fees for the sick. Each person gets an allowance to spend on health care. When the allowance runs out you must pay fees. This system victimizes the sick, rewards the healthy with rebates and it is costly as it requires an expensive administration to run it.
--------
Greenpeace - January 2002
- Extinction is forever...
Getting your MP to act takes one minute
Parliament resumed sitting this week and endangered species need your help.
After three tries, the government is bringing Bill C-5, the Species at Risk Act, to a vote. Your MP needs to know you value a strong law that protects Canada's species and the proposed bill isn't strong enough.
MPs need to know the bill needs to be changed to truly protect endangered species by protecting their habitat, usually forests. The current version only protects habitat in 5% of Canada, and our endangered species need 100% protection.
They've waited long enough.
Please take a minute and use our website to send a free fax to your MP letting them know that you support strengthening Cill C- 5. The Greenpeace Canada Take Action page is at:
http://www.greenpeace.ca/e/action/index.html
--------
At Corporate Watch - Jan.2002
- Greenwash 10 The UN's Global Compact, Corporate Accountability and the Johannesburg Earth Summit
This new report documents corporate influence on the United Nations and calls on the UN to implement measures for accountability.
--------
Premiers, Feds and the Media Unite to Dismantle Medicare
By Gary Morton, Jan.27.2002

In our aging society nothing is more important to Canadians than the public health care system. At this point in history public health care and expanded services and coverage are the priority of the people.

In spite of this the establishment in Canada has a different vision … one without ethics. Their priorities continue to be tax cuts and the handing over of invaluable public systems to large corporations.

Canada's Ten Premiers want to continue to buy votes with tax cuts and do favors for corporate backers. The money for giveaways isn't there in the current economy so they want to dismantle our health care system in order to get that cash. This week they created their own special interest power group called the Premiers' Council on Canadian Health Awareness. Its agenda is to weaken the Canada Health Act through a new disputes resolution mechanism, scale-down the health system, hand delivery of services to private sector corporations and frighten Canadians into believing dramatic changes are needed for Medicare to survive. The scaling down will involve delisting drugs, treatments and services. There will be user fees, co-payments and so on.

The corporate television, radio and print media and the federal government are also involved in this game to dismantle health care. The Feds lack dollars for tax cuts and have brought in Anne McLellan to look at ways of chopping Medicare. The media is owned by corporate interests that would like to see more privatization and generally works with the other political forces to help create a scare that will justify this fresh attack on health care. If their goals are achieved Medicare will be badly damaged with the only winners being corporations pulling in vast profits. We'll have a huge number of Canadians that won't be able to afford drugs and health care and the resulting downward spiral that comes with a crippled population.


In stories this week the media works hard in its attempt to create a state of public panic. They have Premier Gordon Campbell saying that the system of universal health care that Canadians have identified as their number one priority is in jeopardy. Then they have Mike Harris saying, "Our health-care system is on life support and it is fading fast. We don't have enough tax revenue to fully fund health care, so there either has to be more federal funding, or we're going to have to find another mechanism."

They present us with scare tactics, yet they don't present sensible voices on the issue and they don't note that Campbell and Harris are ideologues that have been overseeing a criminal dismantling of public services … characters that would tell any lie to justify their pro corporate political agendas.

The federal liberals are in the same pirate boat. We have a bunch of conservative liberal candidates running to replace Jean Chretien, and every one of them needs a couple million in corporate donations to run a leadership campaign. These people have been bought before they ever got out of the gate … and even those that haven't been bought have abandoned their previous vision of a better Canadian society that is publicly owned and controlled. They can't act on behalf of the people when it comes to health care issues.

In one of his last essays Tommy Douglas said "… even at my age I'll trek this country from the Atlantic to the Pacific to stop Medicare from being destroyed."

Yet we'll likely have to do more than that. Building the strength of the defenders of Medicare is the only way to oppose the anti Health Care Establishment.
--------

Here is a list of meetings people can get involved in to help save Medicare
Province-wide Campaign to Defend Medicare

The following is a list of important kick-off local organizing meetings for the Ontario Health Coalition's campaign to save Medicare. The meetings will start the planning process for an unprecedented community organizing campaign.

Algoma - Save Medicare Campaign Plenary Wednesday, February 13, Days Inn, Sault Ste. Marie. 7 - 9 pm. Register by contacting Elsa at 705-949-6235 or elsam@onlink.net

Burlington - Save Medicare Campaign Plenary Tuesday, January 29, Burlington Baptist Church, 2225 New Street, Burlington. 5:30 pm registration, 6 - 9 pm meeting. Register by contacting Ed at 905-681-0242.

Chatham - Save Medicare Campaign Plenary Saturday, February 9, UAW Hall, 88 Elm Street, Wallaceburg. 10 am - 2 pm. Register by contacting Bela at 519-627-8112 or beladeb@mnsi.net

Hamilton - Defenders of Medicare Convergence Saturday, February 16, Hamilton Central Library, Hamilton Room. 10 am - 2 pm. Register by contacting the Hamilton-Wentworth Health Coalition at 905-516-5690.

Kingston - Save Medicare Convergence Wednesday, January 30, Kingston Public Library, Johnson & Bagot Sts., Kingston. 6 - 9 pm. Register by contacting the Kingston Health Coalition at 613-374-5211 or cstock@sympatico.ca

London - Defenders of Medicare Convergence Saturday, February 16, 2nd floor, London Community Resource Centre, Dundas & Colbourne Sts., London. 10 am - 2 pm.
Register by contacting the London Health Coalition at 519-453-1837 or waabino@yahoo.com

Timmins - Save Medicare Campaign Plenary Thursday, February 21, CAW local 599 office, corner of 2nd and Balsam Streets. 7 - 9 pm. Register by contacting Ben at 705-235-8121 x 7599 or caw599@kiddmet.falconbridge.com

Toronto - Medicare IS Canadian Action Meeting Sunday, February 3, Steelworkers' Hall, 25 Cecil Street, 10 am - 2 pm. Register by contacting the Toronto Health Coalition at 416-929-1545 or pacfutt@globalserve.net

Windsor - Save Medicare Convergence Saturday, February 9, CAW Hall, 1855 Turner Road, 10 am - 2 pm. Register by calling the Windsor Health Coalition at 519-256-8082 or dlongmoore@cogeco.ca

For more information, please contact Natalie at the Ontario Health Coalition 416-441-2502 or by email at ohc@sympatico.ca.

Groups:
Canadian Health Coalition - http://www.healthcoalition.ca
Ontario Health Coalition - http://www.web.net/ohc
Articles:
- The Future of Medicare By Tommy Douglas
- Hasty Diagnosis; Influential Senators are Quietly Making a Case Against Medicare as we know it, by Thomas Walkom Toronto Star January 4, 2002
- Senator Kirby's conflict of interest, by Michael McBane Hill Times December 10, 2001
=================
At the Star - Jan.22.2002
- McLellan's `open mind' and medicare by Thomas Walkom
--------
FTAA a Threat to Western Hemisphere's Forests – Jan.2002
The Free Trade Area of the Americas would endanger forests by:
- Limiting conservation measures in the service sector.
- Loss of democracy and public involvement. Governments would surrender to unelected international tribunals the adjudication over their safeguards for forest protection.
- The FTAA would weaken standards that prevent the importation of invasive pests, species or threats from genetically modified organisms (GMOs).
- Spread of invasive species. Precautionary measures aimed at preventing the spread of ecologically and economically destructive invasive plants and animals would be further impeded if proposed Sanitary and Phytosanitary (SPS) measures are adopted.
- Genetically modified tree risks. If the draft text is accepted by FTAA countries, they will be required to allow the patenting of genetically modified organisms, including genetically engineered vascular plant and tree species capable to disrupting native ecosystems.
--------
AMNESTY INTERNATIONAL- 07/01/2002
- Russia: Grigory Pasko gets four years in a labour camp for speaking out for the environment
- Support Grigory Pasko Web Site with photos
--------
At the Toronto Star & the Globe - Jan.7.2002
- Wildlife in 'crisis ... Commission blames pollution, human activity
- GDP value must reflect eco-health, report says
--------
At the Globe and Mail - Dec.29.2001
- Alberta to spend $1-million on ad campaign to convince Albertans that unpopular health care changes are necessary.
--------
At CNN - Dec.29.2001
Global Warming Effect - 6.5 feet of snow buries Buffalo, New York
--------
BioWar- Dec.2001
- GM & Bio-weapons Control Must Go Together
- US expert believed behind anthrax attacks
BERLIN - The anthrax attacks in the United States were probably the work of a member of a U.S. biological warfare programme, the magazine of environment group Greenpeace Germany reported yesterday. The magazine said its article was based on information from a U.S. delegation source at the United Nations biological weapons conference in Geneva that began last week. The attacks have killed five people.
"The U.S. delegation believe it is an inside job... Their members also have more information than has been made public," Kirsten Brodde, a
reporter for the magazine, told Reuters.
The attacks prompted initial accusations by President George W. Bush that Saudi-born militant Osama bin Laden may been responsible.
--------
Rep. Scott McInnis of the GOP wants leading green groups to denounce eco-terror, though they're already on record against it .- Dec.2001
- TERRORIZING THE ENVIRONMENTAL MOVEMENT
- Environmental activist Ray Vaughan responds to McInnis
--------
At the Star - Nov.30.2001
- Ontario warned of tainted food crisis
-------
Stop the Tory Clawback of Disability Benefits - Nov.6.2001
from the NDP - MPP WANTS A RAISE - FOR OTHERS - Sault Ste. Marie MPP Tony Martin reminded the Conservatives that families on Ontario Works or recipients of disability supports have had their benefits frozen since 1995. Meanwhile, the cost of living has increased by 9.5 per cent. Martin has spearheaded a drive to stop the Conservative government from clawing back the child benefit allowance that Ottawa sends to Ontario's poorest families. He has also introduced a bill to provide people on disability allowances a cost of living increase every April 1 to keep pace with rising costs of food, clothing, housing and necessities. "Children are suffering. Families can't put food on the table, can't afford the winter clothing they need, and are terrified by the upcoming stresses of Christmas. Stopping the claw back would give back almost $100 per child every month to families who need it most. Surely Minister, you don't think children should be penalized for being born into poor families," Martin said in the house today.
---------
Heart Health and Poverty report released on Nov. 1
This report shows that poverty itself has a direct effect on the heart health of low income communities. The full report can be downloaded from the web site
http://www.york.ca/wellness/heart.pdf. Hopefully the report can be an important advocacy tool.
--------
Senate Committee Report Fatally Biased: Ontario Health Coalition(Oct.30.2001)
Toronto – The Ontario Health Coalition, in partnership with other concerned community groups, are planning a lively protest today at noon at the Royal York Hotel: the site of the hearings into the future of Medicare for the Senate Standing Committee on Social Affairs, Science and Technology. The committee recently released a report titled, "Issues and Options" ostensibly about the options facing our health system. Coalition spokespeople called the report "fatally biased" noting that it ignores public options, really only looking in detail at options for creating two tiers and privatizing Medicare. The report was planned as number four out of five that the Senate committee intends to release but was released early, presumably to impact the work of the Romanow Commission. Senator Kirby, committee chair and Board member of Extendicare Inc. has been travelling across the country promoting privatization of Medicare in the national media and predicting the demise of the Medicare system if Canadians do not support his position.
"It is an outrage that this board member of a huge multinational private health company, not elected by anyone, and without bothering to provide a single shred of evidence to support his claims, is traipsing around the country using his Senate Committee position as a platform from which to tell Canadians that public Medicare is on its last legs and we have to privatize," charged Irene Harris, coalition co-chair. "The irony of ironies is that he is proposing "solutions" like user-fees and two-tier health care — the very things that worked so badly that they brought about the creation of public Medicare in the first place."
Three key items missing from the report:
1) The committee's paper suggests that Canadians over-use so called free healthcare services. It uses this presumption to justify a series of two-tier privatizations stating that Canadians need to be "trained or given incentives which help them discriminate between their true needs for health services and their desired demand". The report does not bother to give any evidence that Canadians are - or if we are, to what degree we are - in fact, overusing the health system.
2) The report neglects to give any evidence whatsoever that a tier of profit-seeking health care would improve cost, efficiency or quality of care. It ignores international and Canadian evidence that two-tier Medicare makes waiting lists longer. It ignores the American experience of health care privatization - even though many of the same corporations would be in operation in Canada if we privatized. Similarly, the report ignores cost escalations in countries that have privatized healthcare, including Australia, New Zealand and the U.K. The report dismisses outright any possibility of taking a closer look at gaining efficiencies through containing or eliminating the privatization that currently exists – opting to dump the responsibility for system change on patients rather than on health care profiteers. Authors blatantly show their bias by lauding health privatization as "thinking outside the box".
3) The case for public financing of health care is not investigated. Instead, much ink is spent on a listing of all the ways the authors could think to privatize the financing of health services.
For more information: Natalie Mehra 416-441-2502 (office), 416-230-6402 (cell).
---------
Canada Health Coalition - Save Public Health Care - Oct.2001
- website is dedicated to facillitating public involvement in the Commission on the Future of Health Care. It includes speeches, facts, files so on.involvement in the Commission on the Future of Health Care in Canada
http://www.healthcoalition.ca/romanow.html
---------
At Straight Goods – Oct.2001
- Settling the issue of trespassing GM crops - Arthur Hanks. Saskatchewan organic growers are planning a class action lawsuit to defend their crops from the spread of GM food production.
--------
Biological Weapons - Oct.2001
- The Sunshine Project (US) This is a site for citizen action for sensible US policy on biological weapons control.
- Scientists Fear Miracle of Biotech Could Also Breed a Monster
- Biopesticide and Bioweapons
--------
MPS Vote Down Mandatory Labels For GM Foods (Oct.2001)
Canadian Parliament killed a bill that would have made it mandatory for genetically modified foods to be labelled in Canada.
The news story and complete record of how MPS voted is on the main page under For the Record at
http://geneaction.org
---------
At MainLine - Oct.11.2001
- Anti Biotech Activists under government and corporate surveillance
---------
Future of Health Care in Canada - 25 Oct 2001
The Ontario Health Coalition's submission to the Romanow Commission on the Future of Health Care in Canada has been put up on the website.
http://www.web.net/ohc/
--------
Ontario Action Alert: Harris to Make Hunting a Legal Right! – 16.Oct.2001
From: "Plourde, Denise" <DPlourde@contactpsc.com
On October 5th 2001, the Government of Ontario announced its plan to make hunting and fishing a "legal right" under the proposed Heritage Hunting and Fishing Act. If allowed to pass, this legislation would elevate the recreational slaughter of wildlife to the same level as such fundamental liberties such as the freedom of speech and assembly.
The government has also proposed to establish a Fish and Wildlife Heritage Commission, to be made up of representatives from the hunting and fishing lobby. Under the proposed legislation, the Commission will gain almost exclusive control over wildlife management in Ontario.
WE CANNOT ALLOW THIS LAW TO PASS!!
Ontario residents have only until NOVEMBER 4th to submit letters in opposition to the government's legislative proposal. Please print off and sign your name and address to the letter below (or better yet, write your own letter) and let the Ontario Ministry of Natural Resources know that you object to the proposed Heritage Hunting and Fishing Act and the establishment of a Fish and Wildlife Heritage Commission.
*** To be sure that your letter is received and counted, please send it directly to PETA at the address below, and we will take care of delivering the letters to the Ministry of Natural Resources. Please mail or fax letters no later than October 31st to:
People for the Ethical Treatment of Animals
c/o Animal Alliance of Canada
221 Broadview Avenue, Suite 101
Toronto, ON M4M 2G3
Fax: 416-462-9647
--------
Sierra Club Protests ClearCutting – Sat.Oct.13.2001
Members of the Sierra Club and friends want Harris to Stop Clearcutting Ontario. Guidelines released by the Ministry of Natural Resources that allow damaging forest clearcuts will soon be adopted as policy, which is why protesters are on the street trying to rally public support against Harris.
Photo of protest: http://home.eol.ca/~command/ccut4.jpg
Contact:
Dave (dave_a_murray@hotmail.com)
--------
Genetically Modified Food Issue a Step Up on the Political Agenda – Oct.8.2001
By Gary Morton
The Council of Canadians held a national day of action in support of the mandatory labeling of GM foods on Saturday. Organizers Brent Patterson and Kim Phillips plus members and supporters passed out leaflets outside Loblaws' superstore at Bathurst/St. Clair Toronto.
Public support for GM food labeling is strong and some politicians are now catching onto that. Federal NDP environment critic Joe Comartin is out in support of the campaign for labeling and liberal leadership candidate Allan Rock is now a strong supporter. Liberal MP Charles Caccia has a private member's bill before Parliament to amend the Food and Drug Act to require mandatory labeling of foods that contain genetically altered materials.
In Europe you must label if there is anything genetically modified in the food. Rules come into effect in January in Japan and in December in Australia and New Zealand.
Canada has been on the wrong track, using tax dollars in support of Genetic Engineering. Ottawa spent $2.8 million last spring on a door-to-door brochure extolling the virtues of GM foods. Industry Canada is a member of BioteCanada, bestowing corporate welfare on huge companies like Monsanto. An American company, Monsanto just sucked a million dollars from the government to aid in the development of GE wheat that Canadian farmers and industry do not want.
Monsanto, Novartis and other large genetic engineering firms are also coming under scrutiny in the wake of the Sept.11th terrorist attack in the United States. They have made the technology for dangerous techniques that can alter plant and animal species too readily available.
Photo from past demonstration
http://home.eol.ca/~command/c287b.jpg
--------
From the New Democratic Party - 2001.10.05
NDP JOINS CAMPAIGN FOR MANDATORY GM LABELING
OTTAWA - NDP environment critic Joe Comartin this week endorsed a fall campaign sponsored by a coalition of groups, including Greenpeace and the Council of Canadians, calling for mandatory labeling of genetically modified food.
"The public want to know, and have a right to know, what is in the food they eat," Mr. Comartin said. "The government has had ample opportunity to take action on this issue but continue to drag their feet. Hopefully this campaign will help prompt them into action."
Mandatory labeling of genetically modified food has been part of NDP policy since 1999. NDP health critic Judy Wasylycia-Leis has introduced a bill that would require such labeling.
---------
At The Varsity - Oct.2001
-Professors rally around Dr. Healy's lawsuit against the U of T
(Last few years have seen more threats to academic freedom than in past fifty years: National Teachers Assoc.)
--------
Psychiatric Colonization of the Normal - Oct.3.2001
-Prescription For Scandal: Biological Psychiatry's Faustian Pact
--------
Nuclear Waste Plan Totally Unsatisfactory- Sept.29.3001
from the NDP
OTTAWA - The federal government's nuclear fuel waste bill allows the nuclear industry to make all of the decisions, in too short a time, probably using methodology relatively inexpensive for the industry but totally unsatisfying for the Canadian public, New Democrat environment critic Joe Comartin said in the Commons Thursday.
He said the NDP would support the bill in second reading to make sure it has thorough review at the committee stage.
"The work in that committee hopefully will get us to a result by way of significant amendments that in fact would make the treatment of nuclear
waste something in which Canada can be a leader in the world, as opposed to what we see in the bill now," Mr. Comartin said.
He said the NDP "will attempt to get changes is the composition of the panel that will form that commission (overseeing nuclear waste), because as it stands now the only people who would be on it are from the industry. Those people who need regulation would be doing the regulating."
For the full text of Joe Comartin's speech on the Nuclear Fuel Waste Act, please e-mail info@fed.ndp.ca, and write "Nuclear Waste" in the subject field.
--------
From NGIN - Sept.27.2001
-Now for GM weapons (It's time to get tough with the biotech firms over germ warfare)
-Fighting terrorism of all brands By Vandana Shiva
--------
At Canadian Business Online -Sept.25.2001
(Canadian government spent a billion on agbiotech)
- Ottawa is still pumping tax dollars into GM foods
--------
Gene News - Sept.2001
-Gene Action website and resource page.
-Pharma Buys a Conscience By Carl Elliott
--------
Ontario Health Coalition Report - Sept.2001
-Secrets in the House - Homecare Reform in Ontario 1997 - 2000
-Why NOT Privatize? Fact sheet on Privatization
--------
Gene News – Sept.2001
-Independent Scientists An Endangered Species
-Beware Corporate Takeover of Organics
-Europe's New Rules Could Sink All GMOs
-Frankendrugs with Human Genes Spliced into California Rice Fields
-800 PROTESTERS UPROOT BT-CORN IN THE PHILIPPINES
-Time Magazine on the Rising Tide of Protests Against Corporations
--------
PR Nation: (Sept.2001) Anti-spin Activist John Stauber Penetrates America's Lie Machine. This article deals with PR and activiism. Covers GM foods and bovine growth hormone spin.
http://www.commondreams.org/views01/0901-05.htm
--------
Help us stop massive clearcuts in Ontario's public Forests - Fri, 7 Sep.201
Late on the Friday of the Labour Day long weekend, The Ontario Ministry of Natural Resources (MNR) released a new draft of their clearcutting guideline which requires companies to create massive clearcuts in Ontario's public forests
An earlier draft of the guideline was released last fall and called for the use of 10,000 hectare clearcuts (larger than the City of Guelph). Rather than addressing the public outcry that resulted, the MNR has now removed any limit on the size of clearcut allowed. The new draft guideline would allow the vast majority of the area logged in a forestry plan area to be in massive clearcuts.
MNR says that big clearcuts will be good for wildlife because naturally occurring fires are also big. This simplistic and misguided concept is the cornerstone of the guideline, and puts at risk the remaining areas of large, continuous old forest in the province. Woodland caribou, a threatened species, is already locally extinct everywhere that industrial logging has occurred in Ontario. This guideline sets a dangerous precedent for forestry in Canada.
Although the guideline contains some progressive changes to how many trees should be left standing in clearcuts after logging to provide better wildlife habitat, these changes don't go far enough. Any positive changes the guideline proposes are swamped by its focus on massive clearcuts, whichill do significant harm to our forests.
We need your help to get the MNR to drop its plans to allow massive clearcuts. The Ontario government must be shown that we won't stand by and let them destroy our forests. Your comments to MNR are a key element in the fight to get this guideline changed and to stop this dangerous Canadian precedent.
Send your comments to Joe Churcher, Silviculture Systems Specialist MNR Forest Management Branch
70 Foster Drive Suite 400, Sault Ste. Marie, Ontario, P6A 6V5, PHONE: (705) 945-5710,FAX: (705) 945-6667
- see http://www.wildlandsleague.org/clearaction.html
--------
Canadian Action Party Denounces - Aug.2001
"Politically-Modified" Report on GMOs
--------
Eight Arrested at Toronto Clear the Air Demonstration – Aug.20.2001
- View Three reports and Photos– from Gary Mortonr, Tooker Gomberg and TASC
--------
At the Star - Aug.18.2001
-Critics slam food label plan (Draft allows 5 per cent of ingredients to be genetically modified)
--------
Climate Change, and Bonn. Which deal will set the world on fire? Tues.Aug.7.2001
* Notes on the public report from Peter Tabuns of Greenpeace, activist Tooker Gomberg, and Christine Elwell of the Sierra Club.
- read the full report
--------
MPP Says Oak Ridges Moraine Report a Sell-Out -August 14, 2001
From: Mike_Colle-MPP@ontla.ola.org
(Queen's Park) - MPP Mike Colle says recommendations released today by the Oak Ridges Moraine Advisory Panel are a disappointing sell-out that are a backward step for Moraine protection.
Says Colle, "This is a very disappointing, weak report that is very permissive of development on the Oak Ridges Moraine and not on the side of protection. Essentially, if this report is followed it will be a death of a thousand cuts for the Moraine."
Among the most troubling recommendations:
1. Wildlife and natural corridor protection has been reduced from 34% recommended by the government at the OMB hearings to just 16%.
2. Millionaire estate lots will be permitted on nearly 40% of the Moraine deemed countryside/rural.
3. Aggregate extraction will be permitted in sensitive natural corridors.
Also troubling is the broken promise of public consultation. The government has refused full public meetings, cutting off important debate by opting for controlled so-called 'open-houses.'
There will be no public hearings or meaningful time set aside to really hear what the public thinks.
Colle is urging the public to not give up the fight despite this setback.
Adds Colle, "The government is afraid of real public consultation because they know people who want Moraine protection will reject this report. That is why they're cutting off debate. Nevertheless, they will be watching us to
see what we will accept. We can not give up the fight for a proper protection plan. We will not accept this disappointing sell-out."
------
At Straight Goods - Aug.10.2001
Consumer Power and Global Warming
Some hints for things to buy, do or boycott to cool the Earth by Ish Theilheimer
Many parts of Canada are now suffering through one of the driest, hottest summers ever. It looks like part of a scary pattern of global warming, with more smog alerts every year, more deaths from pollution, the Great Lakes drying, agriculture in peril and more. Somehow, the politicians and the all-powerful corporations don't seem to have the will to do what's needed to turn things around.
Most governments and politicians won't stand up to corporate power. But you can. Like it or not, we can often have more influence as consumers than as citizens. And environmentally concerned citizen-consumers are developing sophisticated ways to pressure corporations, as well as to vote against global warming with their wallets or even at their electrical meters.
The full story is at http://www.straightgoods.com/Publisher/010808.asp
--------
They Belong in the Wild– Aug.5.2001
Report and Photos on the Niagara Action for Animals MarineLand Protest
- view the full report
--------
Third World Network - July.2001
-Biomedics: Misguided and Risky Panacea
--------
Climate Change Caravan Hits Toronto and ESSO – July.30.2001
- See Photos and a report by Gary Morton
--------
Star - Aug.1.2001
-GM wheat imperils agriculture, coalition warns
-U.S. must act on biological weapons issue
--------
Globe - Aug.1.2001
- U.S. bans all human cloning
---------
E.U. presents new gene labeling, traceability rules - July 26, 2001
- story at ENN
--------
GE food action - Aug.1.2001
From: Shel Goldstein <sshhel@istar.ca>
If anyone has spare money floating around, 70 year old Percy Schmeiser has exhausted his retirement savings fighting his court battle against Monsanto and needs funds for his appeal of the decision that found him guilty of infringing on Monsanto's canola patent when they found their breed in his field. He has been saving his own seed for 50 years. His neighbor was growing Monsanto GM canola. His trust fund is:
Fight Genetically Altered Foods Inc.
CIBC Account # 38-01411
603 Main Street, Humboldt, Saskatchewan, Canada S0K 2A0

ALSO
In Canada, the 10 year old Plant Breeders Rights Act, which gives companies the right to hold patent rights on life forms, is under review. The website of the consulting company, charged with gathering public input, is at http://www.pbrevaluation.org/ . Their email is at info@serecon.ca

A consultation on various aspects of biotechnology, including biotech food, is also underway at http://cbac-cccb.ca/
---------
Deadly (GM) Virus Nearly Released - July.2001
(Scientists Genetically Modify Hepatitis C and Fever)
Info source The Independent (London)
A court was told yesterday that the Health and Safety Executive (HSE) intervened to shut down an experiment involving a lethal hybrid virus for which there is no treatment. The seriously flawed approach to health and safety at Imperial College could have released a genetically modified (GM) combination of hepatitis C and dengue fever into the open.
Imperial College was fined pounds 25,000 and ordered to pay pounds 21,000 costs after pleading guilty to two offences involving health and safety. The risk posed by the virus was on a par with HIV and TB.
The danger arose during an experiment at the St Mary's School of Medicine, part of Imperial College in South Kensington. An unscheduled inspection by the HSE in December 1998 discovered that an experiment cabinet, which should contain the biological elements, was being wrongly used, ventilation systems were inadequate, there was no protection equipment to deal with a spillage, and there was no proper system for waste disposal.
In the first case of its kind brought under rules governing GM experiments, Imperial College pleaded guilty at Blackfriars Crown Court to one count of failing to apply "good microbiological practices and principles of good occupational safety and hygiene" under the Genetically Modified Organisms (Contained Use) Regulations 1992, and one of breaching the Health and Safety at Work Act 1974 in that it "did not ensure the safety at work of its employees".
Keith Morton, for the prosecution, said Imperial College had "shown a disregard for basic measures to ensure and monitor safety, as a consequence of which their employees were exposed to a very real risk of infection".
The college said that no disciplinary action was planned against Professor Joao Monjardino, who led the project.
--------
Support Federal Bills on Animal Cruelty and GMO Foods–July.22.2000
The Council of Canadians protested nationwide at Loblaws superstores today in support of Bill C-287. This federal bill introduced by MP Charles Caccia would bring about the labeling of Genetically Engineered foods.
GE plants have entered the food supply without evidence of human and environmental Safety. Mandatory labeling would allow us to avoid eating GE foods if we so choose. 93 percent of Canadians want mandatory labeling, as do a large number of citizens groups.
GE crops are also disliked by groups opposing control of world agriculture by Transnational Corporations. Such control has led to starvation as other crops and small farmers are squeezed out by corporations seizing land and financial powers.
Loblaws and members of the Canadian Council of Grocery Distributors oppose mandatory labeling and support GE foods. They blot out GMO-free labeling on products, which is a key reason for protest there.

Here are three photos of today's Loblaws demo in Toronto.

Protester holds Support Mandatory Labelling Picket Sign
http://home.eol.ca/~command/c287a.jpg
Peter Skira at work on the picket line
http://home.eol.ca/~command/c287b.jpg
Council of Canadians Organizer Kim Phillips, and Candace Ptolemy of Freedom for Animals talk to Loblaws security police
http://home.eol.ca/~command/c287c.jpg

Write, email or call your local MP, urging support for Bill C-287.
* Fax your MP automatically online at: http://www.canadians.org
* Encourage people to sign on to the petition to support this bill, available at: http://www.fishtomato.com
* Distribute leaflets about Bill C-287 - available through mailto:aaronk@isn.net
The text of Bill C-287 is available at:
http://www.parl.gc.ca/37/1/parlbus/chambus/house/bills/private/C-287/C-287_1/C-287_cover-E.html
--------
Support Stronger Animal Cruelty Laws - Federal Bill C-15 –July.22.2000
Canada's animal cruelty laws have not been amended since 1892.
From now until September it is extremely important that we contact our Members of Parliament to
support effective legislation against cruelty to animals!!!
The Bill (C-15) proposes to amend the Criminal Code section on cruelty to animals to
-Raise the maximum penalty for intentional cruelty from two years to five years in prison.
-Not set limits for fines (the current limit is $2,000).
-Give judges the authority to order anyone convicted of cruelty to animals to pay restitution (for example, veterinary bills and shelter costs) to the animal welfare organization that cared for the animal.
-Prohibit anyone convicted of cruelty to animals from owning an animal for however long a judge considers appropriate.
-No longer treat offences as property crimes.
-Make it illegal to brutally or viciously kill animals.
Toronto Coalition For Bill C-15 Anti-Cruelty Legislation
To read the Bill:
http://www.parl.gc.ca/37/1/parlbus/chambus/house/bills/government/C-15/C-15_1/90148b-1E.html#4
To find out who your MP is & their constituency office contact info:
http://www.parl.gc.ca/information/about/people/house/PostalCode.asp?Source=SM
or call: 1-800-667-3355
--------
Climate Summit - Report Card on Canada
From The David Suzuki Foundation
Our representatives at the international climate change negotiations in Bonn, Germany are keeping close tabs on Canada's negotiating team. So far, Canada is receiving a failing grade. Click on the links below for more on the summit.
The further Canada's negotiating position moves away from supporting an effective Kyoto Protocol, the faster Prime Minister Jean Chretien runs towards George Bush on the report card.
http://www.energyrevolution.net
Bonn update page
http://www.davidsuzuki.org/reportcard.asp
NEWSLETTER
The summer edition of the Foundation's newsletter, Finding Solutions, is hot off the presses.
http://www.davidsuzuki.org/About_us/Newsletters.asp
Check out Canada's Fossil of the Day Awards
http://www.fossil-of-the-day.org .
--------
News on Genetically Modified Organisms and Loblaws Protests


--------
At Other Media - July7.2001
-OHIP cut behind closed doors
--------
Loblaws Calls out the Constabulary: More Demos Planned - July.5.2001
From: TASC <tasc@pop.web.ca>
Toronto Action for Social Change kicks off protests against Loblaws and its policy on Genetically Modified Organisms in Food.
- Photos and report of GMO Picket at Loblaws
----------
Agriculture and the FTAA - Wed, 04 Jul 2001
From: "Henry Martinuk" <hmartinuk@hotmail.com>
- Full Article at http://www.mob4glob.ca/agri.html
--------
BioDevastation - Protests over the BIO 2001 International Convention – June.2001
- See photos/reports from San Diego and Toronto
---------
Mainline News – end of June -Radioactive Roads
--------
Latest Articles at ISIS (Institute of Science in Society) - June.2001
--------
XENOTRANSPLANTATION - The Skewed Ethics of Animal to Human Organ Transplants
A report on the Toronto Public Forum – Sat.May.26.2001
- read the full report by Gary Morton
------
"Freedom of Thought" - Berlin, June 29 - July 2, 2001
Freedom of Thought
Geist gegen Gene (The Mind Challenges Genes)
The Russell Tribunal on Human Rights in Psychiatry Berlin, Germany - June 29 - July 2, 2001

Dear ladies and gentlemen,
Freedom of Thought, an international congress, will be taking place between June 29th and July 2nd, 2001 at the Free University of Berlin on the subject of human rights, biological discrimination and psychiatric coercion. The United Nations commissioner for human rights, Mary Robinson, will be sending a representative, who will give a speech to open the congress. On June 29th, after the opening events have taken place, the conference will be divided into two parts, "The 5th International Russell Tribunal on Human Rights in Psychiatry" and the symposium "The Mind Challenges Genes."
The Mind Challenges Genes takes on the rampant spread of a politically-induced infection that can be labelled "Biomyth." Scientists, scholars and artists of various disciplines will be examining these points: · the decoding of the human genome and the patenting of human genes · psychiatrisation of political dissidents and people with deviant thoughts · genetic technology warfare · the future of mankind
Ivan Illich, one of the most famous critics of medicine, will be speaking about the illnesses which are caused by certain medical practices. Dr. Jean Pascal Zanders, the head of the Sipri-Chemical and Biological Warfare Project, Sweden, will speak about biological weapons. Other prominent scientists have agreed to take part in the discussions.
Freedom of Thought is also an oppositional congress. For the first time since the Second World War a convention of International Biological Psychiatry will meet in Berlin, the place in which Nazi "irradication of unworthy life" was perpetrated. The role of psychiatry and medicine in that genocide should be remembered, especially at a time when gene technology undergoes a breakthrough in eugenic screening techniques. Political criticism is often particularly unwished for in this context.
The congress of Freedom of Thought allows scientists, scholars and journalists from all over the world to exercise their critical faculties. We cordially invite you to take part. The congress will be free of charge. If you would like to make a prepaid contribution, a seat in the auditorium will be reserved for you. Further information about the congress can be found under http://www.freedom-of-thought.de or send us an e-mail to
zukunft.mensch@berlin.de or russell.tribunal@berlin.de

The event will also be audio broadcasted on the internet. The only requirements are a computer with a soundcard and speakers/headphones and an internet connection to the above homepage.
Yours truly,
Elke Heitmueller Rene Talbot Dr. Renate Bauer Hagai Aviel
---
Genetic Engineering, Biotechnology and the Free Trade Area of Americas By Dave Marshal, GENEaction - Mar.17.2001
- read this detailed and eye-opening report
--------
Hospital White Board Violates Patient Privacy - June.1.2001
I just came back from the emergency department at Toronto Western Hospital. Having been there to drop off taxi fare for a person that will be leaving emergency.
The emerg entry has been redesigned, so I walked south and reached a counter with a guard and male nurse behind it. I told the guard I was there to visit and he said he would check to see if my friend was available.
Using a computer he scrolled through a list on a huge white hanging computer screen that was set so that I could see it by looking right as I leaned on the counter.
My friend's name came up in huge letters as did the full list and it showed what problem the patient had been brought in for.
I then said that the board appeared to be a violation of medical privacy. He replied that it was not at all in violation … and as he said it I could see the name of a woman living almost next door to me being displayed … with a giant note that said she had been rushed in due to Vaginal Bleeding.
After that a nurse came out and she told me that the nurses objected to the board and were trying to get it removed. She encouraged me to write a letter or get the public to complain on the issue.
So if anyone wants to complain – the place is Emergency at Toronto Western Hospital, Dundas and Bathurst.
--------
At Ontario Clean Air Alliance- May.2001
- Canada's largest air polluter could be cleaned up cheaply, new study shows
--------
GM Food: Public Wants the Right to Know – May.2001
OTTAWA - New Democrat agriculture critic Dick Proctor this week called on the federal government to take immediate steps to implement a labeling process that will make consumers aware of all genetically modified products, produce and components in processed foods.
Speaking in the Commons, Mr. Proctor said: "One of the reasons consumers are interested and concerned about this issue is that they believe genetically modified foods may contain allergenic, toxic or even carcinogenic aspects. They do not know and they darn well want the right to know."
He said, "Public opinion polls indicate that in excess of 90 percent of Canadians believe they should have the right to know what is in the food they are ingesting. I have difficulty understanding why the government has been dragging its heels to the extent that it has on this issue."
---------
MPP At Aurora OMB Hearing Today To Support Local Hero - May.8.2001
East Aurora Wetlands Slated for Destruction
(Queen's Park) - MPP Mike Colle is in Aurora today asking why the Province refuses to step in and stop the destruction of the East Aurora Wetland.
Colle is there to support David Tomlinson, environmentalist and local hero, who is battling development lawyers alone. These lawyers and consultants are at the OMB hearing in Aurora representing developers wanting to decrease the wetland buffer from 120 metres to 35 metres.
"Why won't the Ministry of Natural Resources or the Ministry of the Environment step in to fight for the environment and save the wetland?" asks Colle. "Why are they leaving Tomlinson and local residents to battle it out alone? They're at the mercy of the OMB and development lawyers."
David Tomlinson is engaged in an epic "David" and Goliath struggle against powerful developers at the Ontario Municipal Board (OMB) to save the East Aurora Wetlands complex.
By himself, Tomlinson has observed the degradation caused by a similar reduced buffer at the nearby Mackenzie Marsh wetland, also in Aurora.
Tomlinson will be at the OMB to give this evidence. He will be going up against development lawyers and consultants by himself at Aurora Town Hall all this week.
The OMB Hearing begins today at Aurora Town Hall, 100 John West Way.
For more information:
(416) 325-8707
--------
Harris' Throne Speech: 21 Steps to State Bankruptcy - April.20.2001
Mike Harris and his Tories will be stumping the province in coming weeks, scaring people with stories of health care spending being out of control and how we need restraint.
They will also be promoting tax cuts, large scale privatization and competition in electricity.
What they won't be telling you is that that they simply changed the formula for calculating health care spending. They in fact now spend far less on health care.
The only thing out of control is the Tories. It's a slight downturn in the economy and they want to squeeze us for tax cut dollars.
Privatization won't save any money but it will lead to expensive fees, and the sale of hydro and so-called competition in electricity can only lead to steep rises in power costs and inflation. The sale of an asset like the Liquor Board that pulls in 1 billion in revenues every year can only be deemed madness.
In essence Mike Harris' bad policies will add rocket fuel to the downward spiral in Ontario. Harris calls his plan 21 Steps to Prosperity. A better name would be 21 Steps to State Bankruptcy, Municipal Disempowerment, User Fees and Private Sector Control.
Gary
------
Organic Lawn Care & Healthy Home Products – Apr.17 2001
http://www.healthyhomeservices.ca
lists everything from fragrance-free & dye-free products, chemical-free lawn and garden programs to healthy renovation ideas & alternative renovating products.
Also, you can contact the Organic Landscape Alliance through (TEA), Toronto Environmental Alliance at 596-0660 or tea@web.net
--------
Climate Action - The next global gathering to address the climate crisis will take place in three months in Bonn, Germany where the nations of the world will meet to try to reach an agreement on reducing greenhouse gas emissions.
The Countdown to Bonn campaign aims to engage Canadians to take action to save the climate.
http://www.CountdownToBonn.org.
--------
At RACHEL'S ENVIRONMENT & HEALTH NEWS - Mar/Apr.2001
- ENGINEERING HUMANS
Altering the genes of future generations would amount to a dangerous experiment carried out on subjects who have no choice about participating. The United Nations' International Covenant on Civil and Political Rights, which the U.S. ratified in 1992, prohibits medical or scientific experimentation on individuals who have not consented freely to participate.
--------
At Straight Goods - April.3.2001
- Why isn't there more public uproar over DES? - Suzanne Elston
--------
Reducing Car Dependency - April.2001
Toronto has produced a report enitled; REDUCING CAR DEPENDENCE: Transportation Options for the City of Toronto. This is a must-read for all cyclists and pedestrians who are frustrated with the abundance of automobiles in
our city.
A colouful summary of the document's highlights:
http://www.city.toronto.on.ca/torontoplan/trans01.pdf
The entire document is also available:
http://www.city.toronto.on.ca/torontoplan/options.pdf
--------
Toronto Green Budget Update – Green Budget Potluck – April 1.2001
--------
Festive Earth's Online Green Marketplace – March.22.2001
- report by Gary Morton
The Festive Earth people unveiled their new web site last night at a downtown meeting. The site designed by idéeinc.com will be up soon. It highlights their clean-up-the-Don campaign, and has enough other features to be a green online community of sorts.
A green jobs board will connect you to green jobs. Eco Solutions will be a complete green marketplace to promote the sales of eco products and services including health food and healthy garden supplies. It also promotes people and groups that educate. And an eco art section will give artists a presence on the web site. Eco talk will connect you to sources of information and a who's-doing-it-right page will celebrate citizens and groups that are doing it right in aid of the environment.
Last night's meeting also featured a forum on Human Sustainability. Wayne Roberts hosted it and it featured Lori Stahlbrand of the World Wildlife Fund, eco architect Martin Liefhebber and Brian Milani, author of Designing a Green Economy.
Martin showed slides on green design and noted that people our mainstream government and economy have abandoned often find themselves working for an alternative green economy. In one slide he had a model of downtown laneways and garages turned into sustainable housing requiring no city services.
Milani followed up on that theme saying he is building lists of eco friendly materials for a web site. Milani feels our materialist system is doing an end run around human needs. Affluence creating waste creates scarcity, and scarcity is necessary for the class relationships that drive our unhealthy system.
Lori spoke on pesticides. Here are a few interesting notes from her talk.
7000 pesticides are used in a billion dollar Canadian industry. Pesticides are used in places you wouldn't expect like fish farming, to kill fleas on pets and on children for head lice. Up to 16 pesticides are used on apples and 13 of them are just to keep the skins scab free.
Only 1 percent of pesticides reach the target, the rest travel in the air, water and soil. Some are toxic, some accumulate in our bodies and others are hormone disruptors that affect behaviour into the next generation.
Though pesticides travel everywhere, more land in the Arctic and they especially hurt children as they eat, breath and drink more pound per pound.
Mysterious pet deaths are often due to lawn pesticides, which are dangerous to animals and humans.
Though we are poisoning our planet, pesticides don't work. Pests still do as much damage as they always did and now we have pesticide damage added to it.
Organic farming, food and landscaping are the solutions.

info
http://www.festiveearth.com
http://greeneconomics.net
--------


Go to More news on page 2

---

Toronto Community Care
You could be recovering from surgery or chronically or terminally ill or a disabled child or frail due to age.
Usually the way to get home care, etc. is to have your family doctor do the referral to the agency. Most services to the disabled, ill and so on rely on the doctor referring the patient to the services. Often they don't do it. There may be many free services available.
Community Care Access of the Ontario Ministry of Health can assign a Care Coordinator to assess needs and supply free services.
Toronto Community Care Access Centre - Provides in home service and info and referrals to a wide range of other services and fee based services.
Toronto Community Care Access Centre
250 Dundas West, Ground Floor, Unit 5
Toronto
416 506 9888
--------

---
Canadian Hotlines: Toronto
Distress Centres (Toronto)
(416) 598-1121
(416) 486-1456
Sexual Assault Care Centres:
Assaulted Women's Help Line
(416) 863-0511
Toronto Rape Crisis Centre
Crisis Line: (416) 597-8808
Mississauga Hospital
(905) 848-7493
Lakeridge Health Oshawa
(905) 576-8711
Scarborough Grace Hospital
(416) 495-2555
Women's College Campus
(416) 323-6040
York Central Hospital
1-800 521-6004
Shelters and Hostels:
Hostel services - Central Intake
(416) 397-5637
Children: Kids Help Phone
1-800-668-6868
Children's Aid Society
(416) 924-4646
Catholic Children¹s Aid Society
(416) 395-1500
Woman's Own Withdrawl Management Centre
(416) 603-1462
----------------
Protest the BEST PRACTICE Policy (BEST PRACTICE FORMULA Destroying Hospitals)
Under the best practice formula the province of Ontario has established for health care, hospitals that don't keep treatment as short and efficient as possible are subjected to financial penalties. The Harris Omnibus legislation greatly empowered the HSRC and the HSRC sets these efficiency targets, which punish the elderly the most as they use hospitals the most. A vicious cycle has been created - Ambulance attendants try to treat the patient at home rather than at the hospital. Then there is a wait and there may not be a bed - if a hospital can be found with an opening. At the hospital staff try to shuffle the patient in and out of emergency and don't want to provide a bed for a longer term - this is to avoid the financial penalty for inefficiency. And in the long term this backfires as patients suffer, some of them fatally, and the hospital suffers as the HSRC comes back and says less beds are being used so it is time to close or merge the hospital.
---------

---
---