SOUNDplay
New Adventures in Sound Art continues to expand its year round season of new electroacoustic music and experimental sound art with the introduction of SOUNDplay, a series that puts SOUND at centre stage in the context of visual images and words.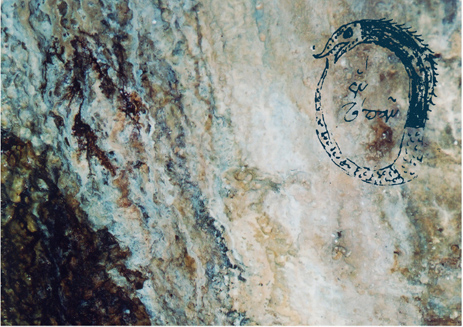 The Walls are Still Weeping By Mundus Imaginalis. Interactive Media Installation. Oct 25-Nov 10
---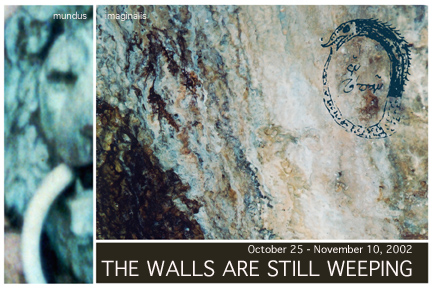 "The Walls Are Still Weeping"

An immersive & interactive multi-media installation conceived by Tania Etienne in collaboration with Jim Ruxton, Galen Scorer and Darren Copeland

October 25 - November 10, 2002

Presented by Mundus Imaginalis and New Adventures in Sound Art

952 Queen Street West (Queen & Shaw), Toronto

For more information call 416-910-7231

Opening is Friday, October 25, 2002 (8 PM to midnight)

Regular Hours are Tuesday to Friday 3-8 PM, Saturday 12-9 PM and Sunday 12-6 PM

ADMISSION: PWYC (Pay What You Can)

"The Walls Are Still Weeping" is an immersive and interactive multi-media installation that is about memory, journeys and life cycles in all their many forms. Enter an otherworldly place filled with materials to touch, explore and transform on the journey as your movement through the space is imperceptibly linked by new technology to audio and lighting events creating a heightened experience of sound, colour, texture and movement through a cumulative process of storytelling. With the theatre's fourth wall removed, you are at once the spectator and the performer, not merely watching the play, but within it, not simply listening to the story, but actively finding and (re)living the journey.

The title "The Walls are Still Weeping" refers to Billingsgate Fish Market's building in London, England where the foundation walls continue to ooze seepage from the River Thames. This site in London is the inspiration for the architectural details of the installation enclosure. Within the installation, sand and salt form patterns like water currents on the floor, crunching underfoot as you walk. You encounter large plexiglass walls containing sand and salt. Crushed ice in the top section of these walls continuously melts,slowly filtering through the sand and salt until it weeps out the bottom of the walls.

As you approach large glass containers of eels on the floor, lights intensify, a voice begins to describe an eel's instinctual migration and physical changes. In the centre of the space, you are drawn to an artifact reminiscent of a nest. It is a coracle, an ancient boat, which floats above you. A platform underneath it invites you to stand on top and explore the vessel's dimly lit interior. As you walk around the circumference of the coracle, your movement triggers the presence of a storyteller (Etienne's Grandfather) retelling the story of his life in England and his journey to Canada.

"The Walls Are Still Weeping" is a journey of transformation. It is created and produced by

Mundus Imaginalis, an artist collective that includes Scenographer Tania Etienne, Electroacoustic Sound Designer Darren Copeland, Interactive Design Engineer Jim Ruxton and New Media Program Designer Galen Scorer.
---
Christian Calon & Shelley Hirsch
November 15, 2002 at 8 PM
Annex Theatre, 736 Bathurst Street, Toronto (between Harboard and Bloor)
Tickets $15 in advance and $20 at the door
Seating is Limited
Buy your tickets in Advance by calling 416 910 7231 (VISA only) or by mailing a cheque to:
New Adventures in Sound Art - 599-B Yonge Street #201, Toronto, ON, M4Y 1Z4.
Friday, Nov. 15 features a double bill of Shelley Hirsch at 9:30 PM and Christian Calon at 8 PM. Hirsch is a New York-based vocalist, composer and performance artist, whose work for stage, concert, record, film, television and radio has been presented on five continents. Past collaborators include Christian Marclay, Ikue Mori, Elliot Sharp, Fred Frith and DJ Olive. For this evening, she will be performing her piece "States," along with selections of her own vocal works. Christian Calon is a Montreal sound and radio artist who has also been located in France and Berlin. His sound installation projects, radio or stage works are rooted in a common exploration of the listening experience. Spatial sound projection, the acousmatic conception of sound forms and the importance of listening contexts are at the heart of his creative research leading to a on-going process of investigating new technologies. Calon will spatialize both recent and older works including Time well (2002), Semaphore-Nord (1998), Les corps éblouis (1994), and La disparition (1988).
Lecture & Demonstration by Christian Calon
November 14 (8 PM) at the Annex Theatre - Admission is Pay What You Can
A one hour lecture demonstrating how spatialization is used by Christian Calon to articulate the structure and expressive nuances of his pieces in performance. The method of spatialization used by Calon involves manually diffusing or mixing a stereo taped sound source to an array of 16 loudspeakers positioned all around the Annex Theatre. This mixing is done in real time using the faders of the mixing console as opposed to the automated mixing of 8 sources distributed to 8 loudspeakers in Sound Travels and most other New Adventures in Sound Art events.
Go to The Walls are Still Weeping
---
Sarah Peebles performing at The Ambient Ping

Cream Test Centrifuge

with David Toop, Sarah Peebles, Nilan Perera, and Darren Copeland

November 16, 2002 at 8 PM

Annex Theatre, 736 Bathurst Street, Toronto (between Harboard and Bloor)

Tickets $15 in advance and $20 at the door

Seating is Limited

Buy your tickets in Advance by calling 416 910 7231 (VISA only) or by mailing a cheque to:

New Adventures in Sound Art - 599-B Yonge Street #201, Toronto, ON, M4Y 1Z4.

Cream Test Centrifuge is the name of collaboration between renowned British musician and writer David Toop, Toronto-based electroacoustic composer Sarah Peebles, sound designer Darren Copeland and guitarist/improviser Nilan Perera. David Toop may be best known as the author of the thought-provoking music books Ocean of Sound, Exotica and Rap Attack, but he is also an accomplished ambient musician in his own right. He has collaborated with everyone from Talvin Singh to John Zorn to Prince Far I to Jon Hassell. At the Nov. 16 concert, he will perform on flutes, paraphernalia and effects, inserting surreal short stories, sarcastic social observation, historical oddities, and thoughts on the impact of digital music -- all spatialized on the fly by Darren Copeland. Sarah Peebles will perform electro-acoustics on laptop, drawing from CD playback glitches of Toop's music, Japan Rail commuting adventures, Tokyo video arcade and pachinko (electronic pinball) sound, hummingbirds, snow, fire and insects. Nilan Perera will utilize preparations of assorted paraphernalia such as swizzle sticks, paper clips, metal brushes and the like, as well as feedback and a variety of electronic effects. His explorations of sound will also be spatialized by Darren Copeland. The performance includes sonic material from Peebles' two new enhanced CD's (Insect Groove and 108-Walking Through Tokyo) which include guest artists Toop and Perera as well as works previously commissioned by New Adventures in Sound Art.

Artist Talk by David Toop and Sarah Peebles - November 13, 7:30 PM at Inter/Access electronic media arts center (401 Richmond Street West, #444 - corner of Richmond and Spadina). Free for Inter/Access members, $5 for non-members. Seating is limited, please book in advance by e-mailing office@interaccess.org. Presented by Inter/Access.

Celebrating two new releases by Sarah Peebles - Insect Groove and 108-Walking Through Tokyo at the Turn of the Century. The CD's include guest artists David Toop and Nilan Perera.

Butler's Pantry, 591 Markham Street, Mirvish Village, Toronto. November 16. Immediately following concert.

DAVID TOOP's Canadian visit has been organized by Artcite Inc and has been sponsored by The VITA Project (located in Windsor, ON). VITA is a lecture/performance series focused on exploring contemporary art issues & is generously supported by its participating institutions and by The Canada Council.

Go to The Walls are Still Weeping
---
Publicity & Marketing: Nadene Thériault-Copeland (416) 910-7231 or
nadene@istar.ca
New Adventures in Sound Art Home Page
---